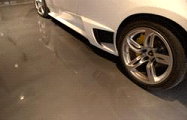 Citadel Polyurea Coatings has introduced Single Component Polyurea (SCP) Solutions, a series of floor coatings with what the company calls "virtually unlimited pot life" and fast curing capability.
The extended pot life minimizes inventory space, labor and waste, the manufacturer says. The high-gloss product is self-leveling and will not form roller lines, according to the company.
Patrick Ilfrey, president of Citadel, calls the new line "the future of floor coatings. It's got an unlimited pot life, it's optically clear, it's stronger, not to mention all the practical benefits of not needing to mix, measure and store."
Features and Characteristics
Citadel says the SCP coatings series offers fast curing, with four to eight hours walk-on time. Even with multiple product layers, return-to-service time is less than 24 hours, the manufacturer says.
The product can be installed year round, in temperatures ranging from zero to 120 degrees. The manufacturer claims that the formulation offers "100%" more flexibility and is "20 times stronger" than epoxy floor coatings.
The series "retains Polyurea's elongation and flexibility, and remains a 'green' product," Citadel says.
Minneapolis-based Citadel has its roots in application of steel and bridge deck coatings. The company's focus later shifted, and its manufacturing division has been engineering and applying Polyurea coatings for more than 25 years on a large variety of substrates.